Workshop Details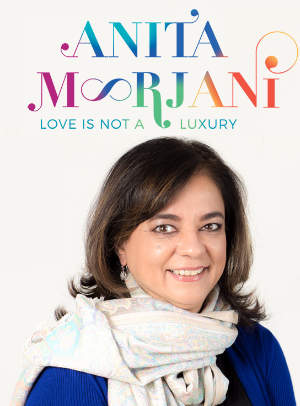 Imagine living with a soul-deep sense of self-love, feeling completely whole and at peace with every aspect of who you are and joyously following your life purpose, where you no longer question your worth or how you're perceived. You see the perfection in your imperfections. You're no longer preoccupied with fixing yourself or your life — because you realize nothing is broken.
In this state of being, you are freed from the prison of other people's expectations and judgments. You allow the wisdom of your soul to express itself through you and you could swear you feel a divine hand at your back, gently directing you.
If you think greeting each day with a lightness of being and unending gratitude is unattainable, Anita Moorjani felt the same way — until she literally died of end-stage cancer.
After a miraculous near-death experience (NDE), she returned to this world knowing that she'd be fully healed — and with a mission to guide others to access the transformative wisdom she had been gifted with.
Now you can experience this same
deeply healing shift of perspective!
Workshop Overview
During this advanced retreat, you will:
Learn how to use your sensitivity as your superpower!
Discover how truly loving the essence of who you are is the ultimate healing path.
Explore the transformative power of reframing your approach to health, well-being, relationships and abundance — by listening to the wisdom of your soul.
Experience a dramatic shift that infuses your very being with indescribable love and joy.
Develop tools to access your intuition.
Learn how to engage with those around you who may be needy without getting drained.
Discover how to rise above the fear and anger that appear to be so prevalent in the world today.
Gain a deeper level of understanding of what it means to be an empath.
Discover how to cultivate an "inside out" worldview — and why it's so essential to do so.
Find out how to stop giving your power away to the physical world.
Explore how to deal with a health challenge in a radically new way that doesn't focus on illness at all.
Understand why not loving yourself is selfish and egotistical.
Take home simple tools for increasing your self-love.
Experience how having your fears dissipate expands your energy, and attracts more wellness, purpose, and abundance into your life.
Discover the secret to uplifting and healing others as soon as you walk into a room.