Haylie Pomroy is a #1 New York Times bestselling author, a leading health and wellness entrepreneur, celebrity nutritionist, and motivational speaker whose "Food is Medicine" philosophy resonates deeply with her supporters. She believes people can fall in love with delicious and decadent food because eating is a positive, biological exercise and food functions as the body's ally.
Haylie's formal education in agricultural and animal science at Colorado State University allowed her to acquire a deep understanding of how nutrition can drastically impact plants, the soil, our food sources, our bodies, and ultimately, our health. She went on to study herbal medicine, homeopathy, biochemistry, biofeedback, micronutrients, laboratory testing, and patient advocacy, in order to create a truly integrative approach for her community. Haylie considers herself a lifelong learner in awe of the complexity of the human body and its relationship to nutrients. She believes that the metabolism affects every aspect of life.
As the founder and CEO of the Haylie Pomroy Group, her career spans more than 22 years, owning and operating nutritional clinics and publishing 5 international New York Times bestselling books that have been translated into over 30 languages. Haylie became a nutritional specialist when she saw a critical need for health products of the highest quality. She produces her own exclusive line of nutritional supplements and programs, including the revolutionary Fast Metabolism Diet. She is a highly regarded consultant by doctors, hospitals, and educational institutions across the globe. Haylie is a frequent guest on the Dr. Oz Show, Good Morning America, EXTRA, and Access Hollywood. Her weight-loss program and philosophy is the subject of a long-running, highly successful PBS and Public Television specials, "The Fast Metabolism Revolution." She has also been featured in many national print and online publications.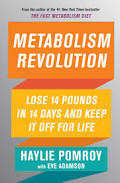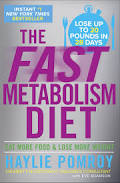 As Hollywood's top nutritional guru, her celebrity clients include Jennifer Lopez, Robert Downey Jr, LL Cool J, Reese Witherspoon, Raquel Welch, Cher, Angela Bassett and Sean Combs along with professional and Olympic athletes and corporate executives of Fortune 500 companies.